8 Cocktails for Fall
Guest Blogger: Katie Stryjewski, Garnish
It's that time of year again – the leaves are changing, the air is turning crisp and cool, and suddenly everything seems to have pumpkin in it. It's officially fall! And that means your cocktails should be changing too. It's time to swap out your mojitos and margaritas for more autumn-appropriate libations.
The best way to make a great cocktail at any time of year is to stick to ingredients that are in season. In fall, that means things like apples, pumpkin, cranberries, pears, and winter citrus. These flavors pair well with aged spirits and spices, and the possible combinations are endless. Try infusing your simple syrup with cinnamon, nutmeg and cloves, or muddling some apples or pears into your drink. Bitters with flavors like cardamom, chocolate, or cranberry can also give your cocktail a perfect hint of autumn flavor. Spirits like whiskey, brandy, and aged rum or tequila work great with fall ingredients, and are perfect for the chilly weather.
So pull out your sweaters and scarves, dust off your space heater, and grab a bottle of bourbon – we've gathered up eight original recipes from our favorite cocktail bloggers that are perfect for fall.
---
Autumn Cranberry Old Fashioned
This seasonal riff on the classic Old Fashioned from Garnish is made with tart cranberries and autumn tangerines.
2 ½ oz. bourbon
1 tsp. cranberry simple syrup*
5-6 fresh cranberries
2 slices autumn tangerine or satsuma
2 dashes Angostura bitters
Sugared cranberries and cinnamon stick, for garnish
Muddle tangerine or satsuma and fresh cranberries in the bottom of an old fashioned glass. Add cranberry simple syrup, bitters, and bourbon. Stir briefly and add one large ice cube. Garnish with sugared cranberries on a pick and a cinnamon stick.
e
*For cranberry simple syrup, combine ¼ cup water and ¼ cup sugar in a saucepan and simmer until sugar is dissolved. Add 1/4 cup fresh cranberries. Remove from the heat and let sit for 10 minutes. Remove a few berries and roll them in sugar for your garnish. Muddle the remaining cranberries well and let sit for another 10-20 minutes. Strain the syrup and discard the muddled berries.
---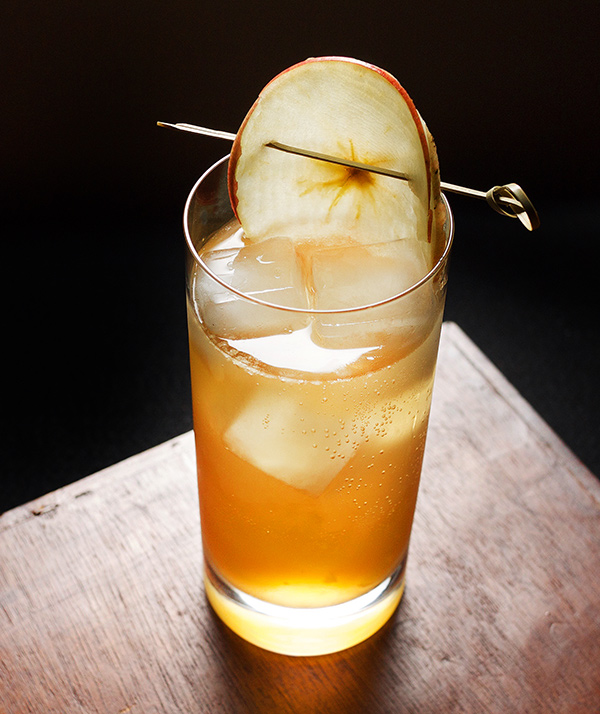 Sparkling Apple Sherry Cocktail
If you've been apple picking, forget the pie – whip up one of these fizzy cocktails from Stir & Strain.
¼ apple, cored and diced
1 ½ oz. apple brandy
¾ oz. Mandarine Napoléon liqueur
½ oz. oloroso sherry
4 oz. prosecco
Orange twist and thinly sliced apple, for garnish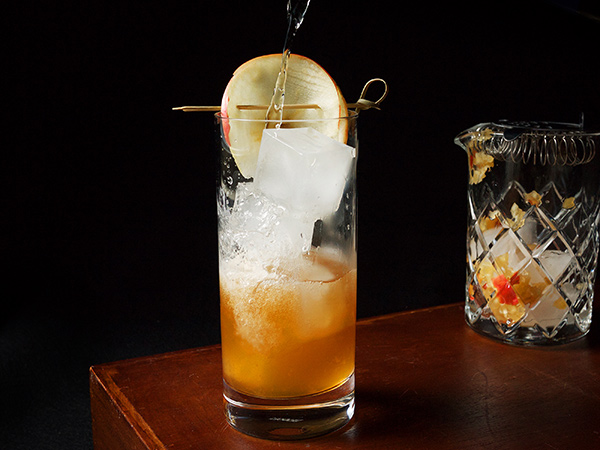 Add diced apple to the bottom of a mixing glass and muddle until apples are broken down and have released their juices. Fill the mixing glass 2/3 full with ice and then pour in apple brandy, Mandarine Napoléon liqueur, and oloroso sherry. Stir to chill until mixing glass is very cold, about 20 seconds, then strain into a highball glass filled with ice and top with prosecco. Twist orange peel over the top of drink to release oils, then discard peels. Garnish with a thinly cut round of apple.
---
This bourbon cocktail from Seattle Whiskey Collective is sweetened with maple syrup and spiced with a dash of cardamom bitters.
2 oz. bourbon
¾ oz. maple syrup
¾ oz. lemon juice
2 dashes cardamom bitters
Add all ingredients into a cocktail shaker with ice and shake. Strain ingredients into a chilled coupe glass. No garnish.
---
Gin takes on an autumn flavor when Em's Jelly Toast pairs it with a spiced pear simple syrup.
For the cocktail:
2 oz. gin
1 ¼ oz. lemon juice
1 large egg white (or 1 oz. pasteurized liquid egg whites)
¾ oz. spiced pear simple syrup (see below)
1-2 oz. club soda
Star anise, for garnish
Fill a cocktail shaker with ice. Add gin, lemon juice, egg white, and spiced pear simple syrup to cocktail shaker. Replace lid and shake for 15 seconds or until shaker becomes frosty. Strain into a cocktail glass. Top with club soda, garnish with star anise, and serve.
For the spiced pear simple syrup:
1 cup water
1 cup sugar
1 pear, cored and cut into pieces
3 star anise
2 cardamom pods
Add water, sugar, pear, star anise, and cardamom pods to a small saucepan. Bring to a simmer over medium heat; stir to dissolve sugar. Allow mixture to simmer over low heat for about 5 minutes. Remove from heat and allow to cool completely. Strain out pear and spices. Store extra syrup in the refrigerator.
---
It doesn't get much more autumnal than apple cider and maple syrup in this bourbon cocktail from Garnish.
2 oz. bourbon
1 oz. apple cider
1/2 oz. maple syrup
1/2 oz. lemon juice
Cinnamon stick, for garnish

Combine all ingredients in a shaker with ice and shake until chilled. Strain into a cocktail or coupe glass and garnish with the cinnamon stick.
---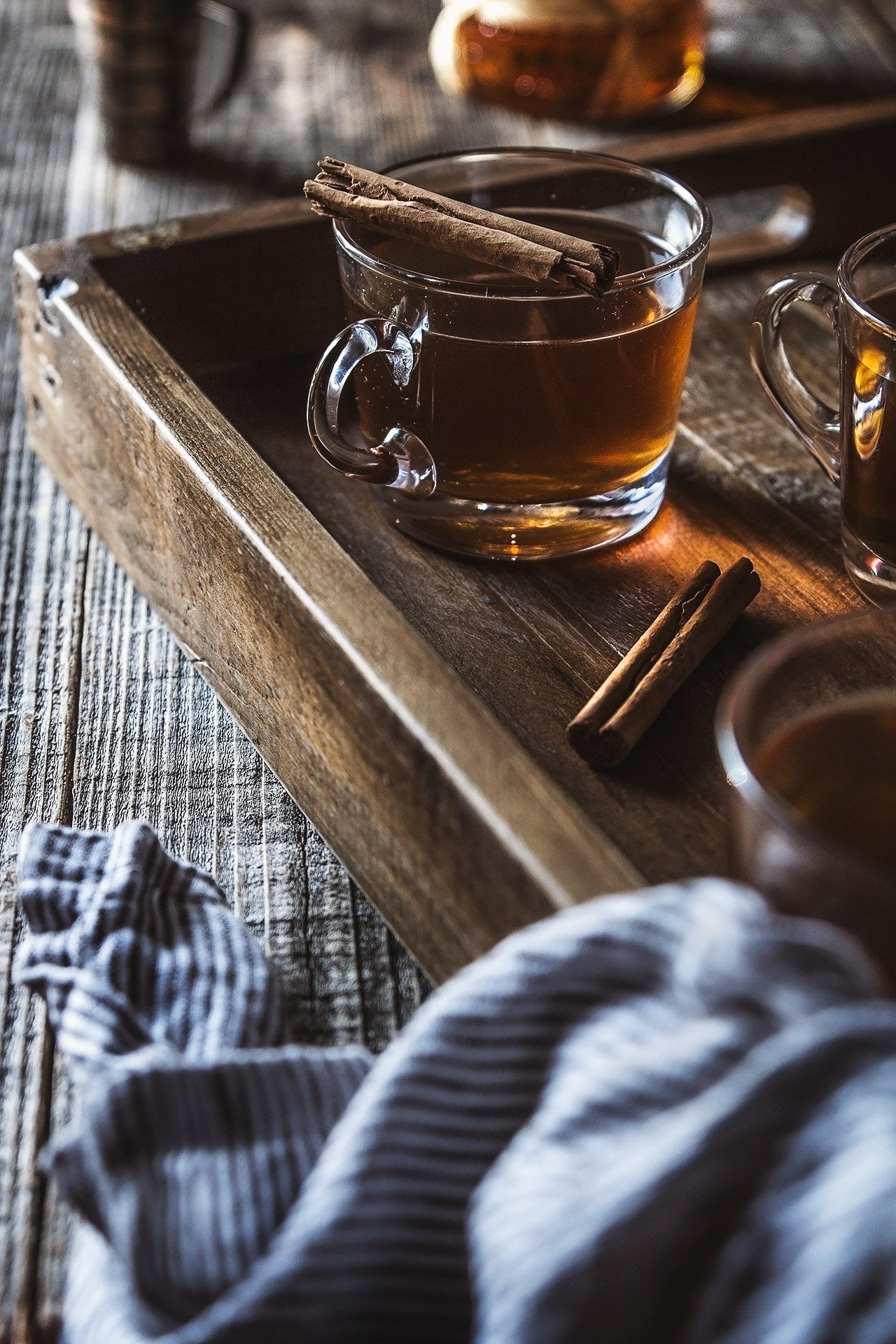 There's nothing more perfect after a crisp fall day than a steamy mug of hot buttered rum… and this recipe from Honestly Yum is vegan!
For the cocktail:
2 oz. aged rum
1 tbsp. coconut oil batter (see below)
4 oz. hot water
Cinnamon stick, for garnish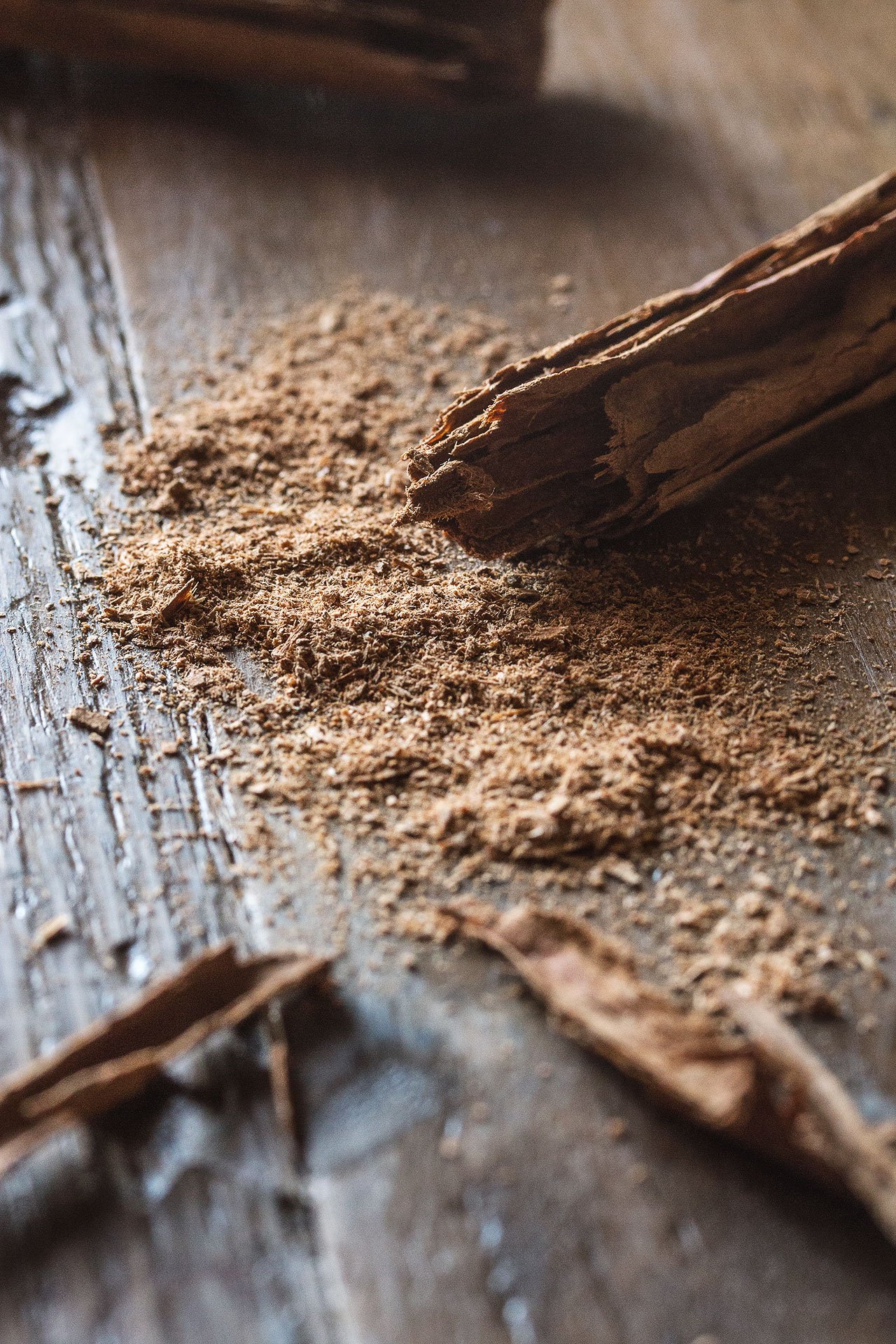 Add coconut oil batter into the bottom of a heatproof glass. Top with rum and boiling water. Whisk to combine until sugar is dissolved and oil has melted. Garnish with cinnamon stick and serve immediately.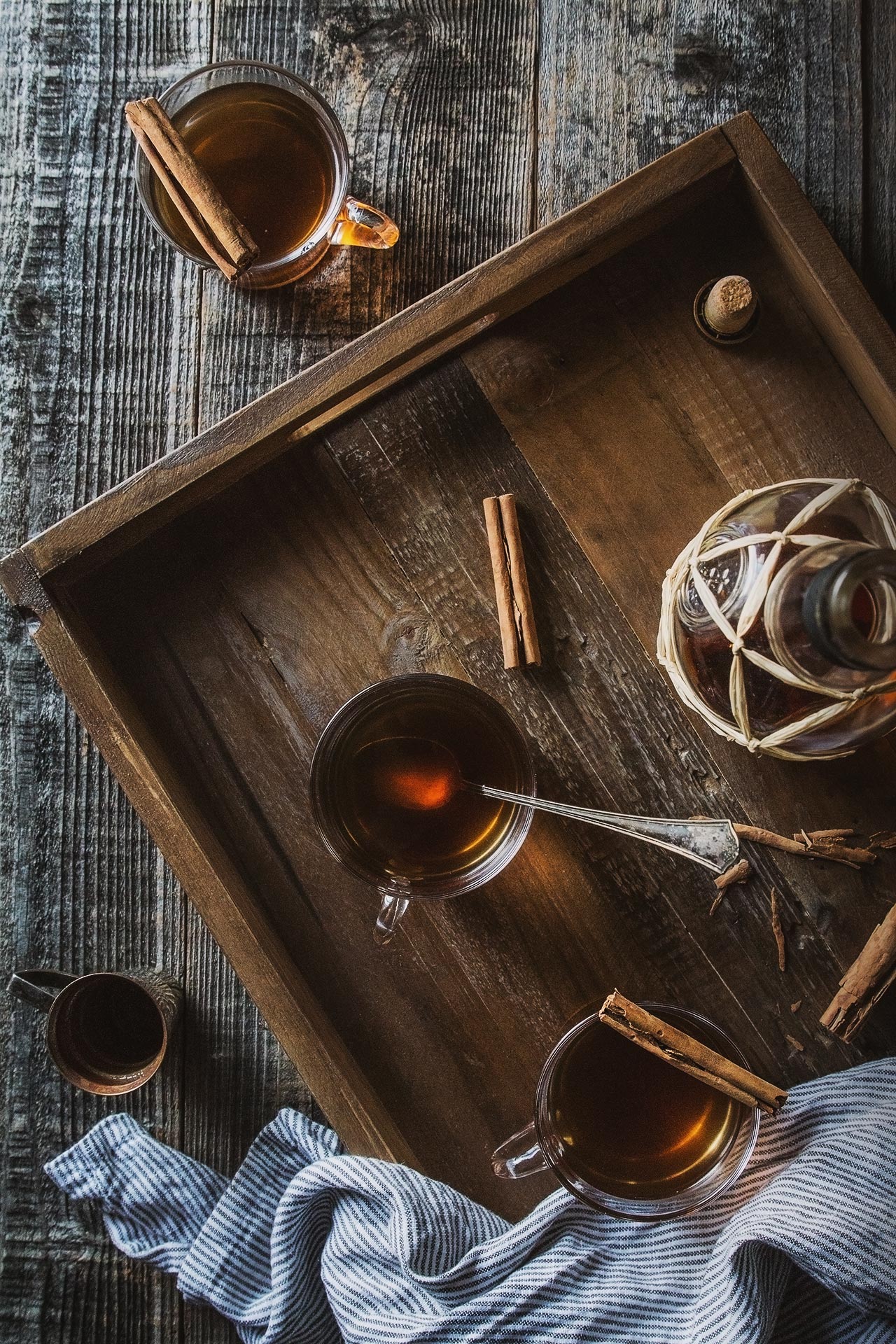 For the coconut oil batter:
½ cup coconut oil
1 cup brown sugar
½ tsp. ground cinnamon
¼ tsp. ground allspice
¼ tsp. ground nutmeg
¼ tsp. ground clove
Pinch of salt
Add the coconut oil, brown sugar, and spices into a mixing bown and stir until a uniform batter is formed. Cover and store at room temperature.
---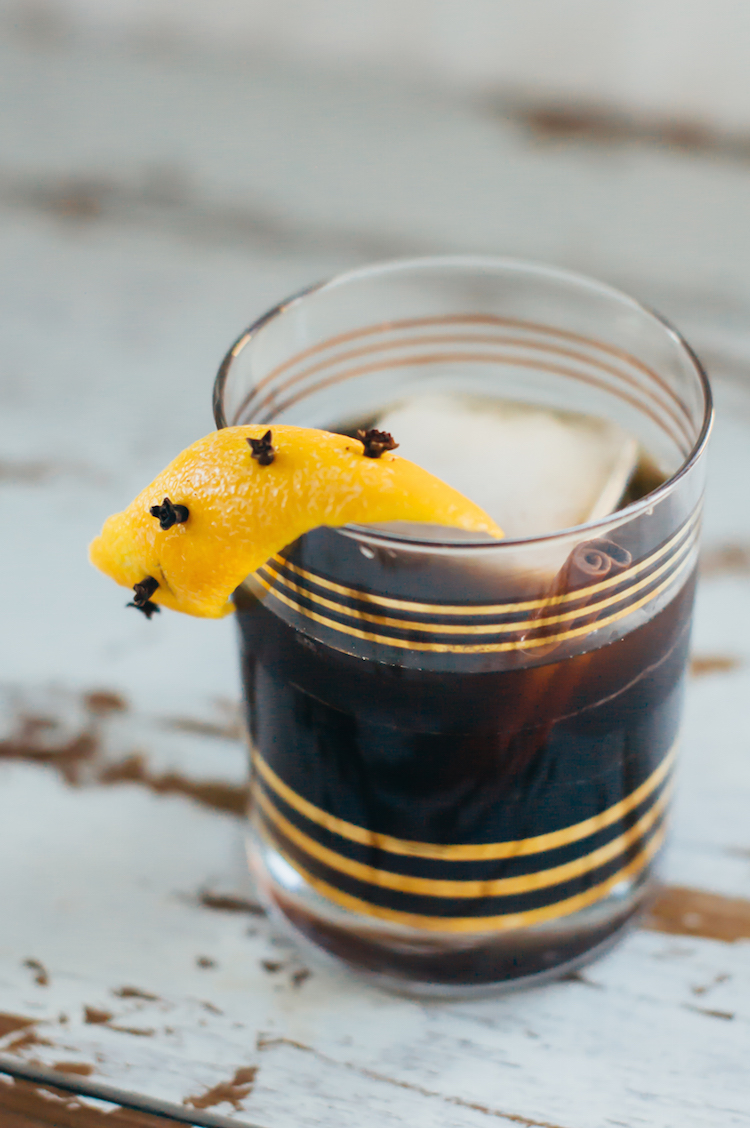 This seasonal Old Fashioned from Craft & Cocktails will put your PSL to shame.
For the cocktail:
2 oz. bourbon
¼ oz. pumpkin spice syrup (see below)
2 dashes salted cacao bitters
Orange peel studded with cloves and a cinnamon stick, for garnish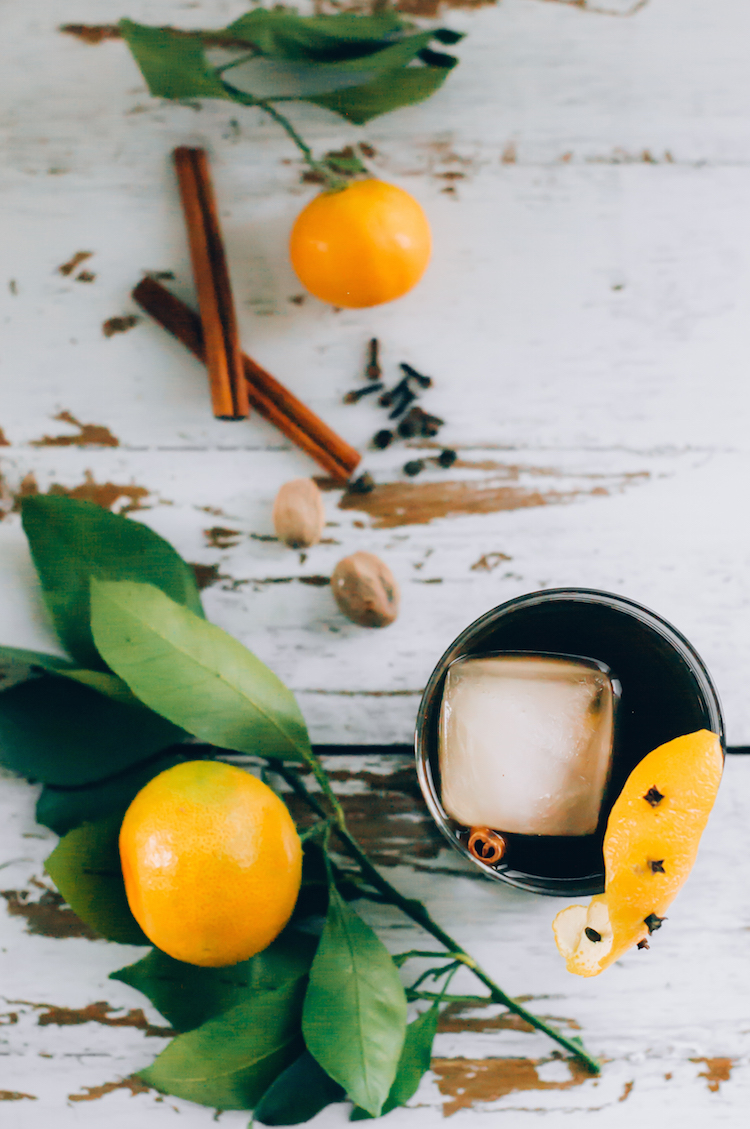 Make syrup. Add bitters and syrup in the bottom of a glass and top with bourbon and give it a stir. Run the orange peel around the rim of the glass and twist it over the drink to release oils. Stuff the orange peel with whole cloves. Add in a large ice cube and a cinnamon stick. Enjoy!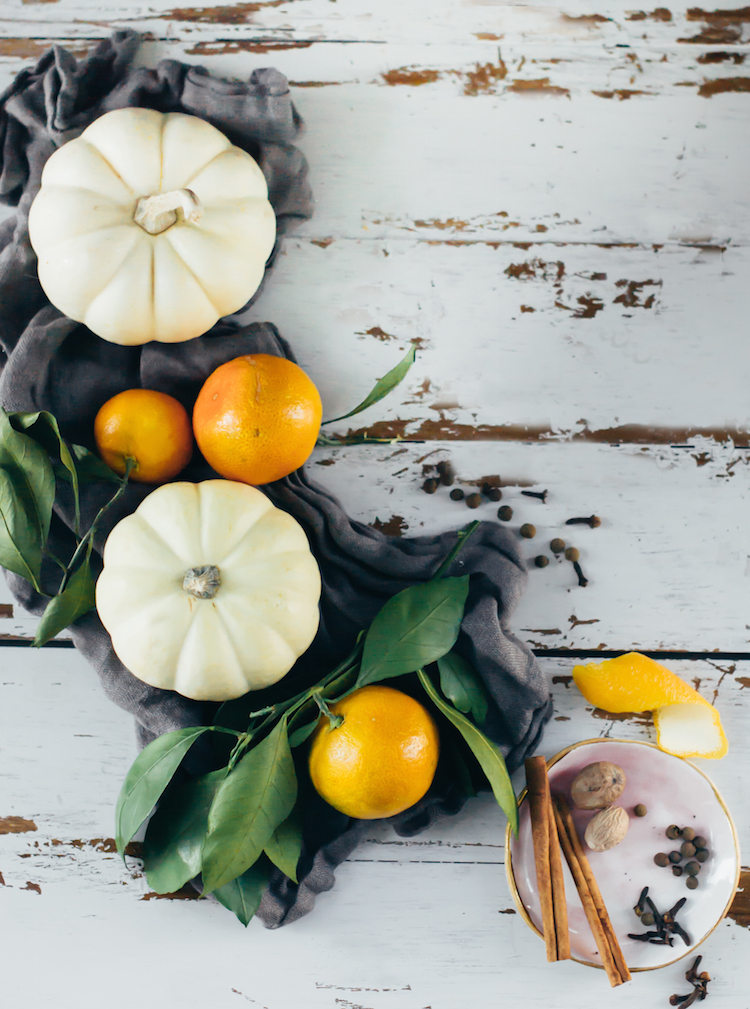 For the pumpkin spiced syrup:
1 cup brown sugar
¾ cup water
¼ cup pumpkin purée
1/8 tsp. freshly ground nutmeg
2 dashes ground allspice
4 whole cloves (or 2 dashes ground)
1 whole cinnamon stick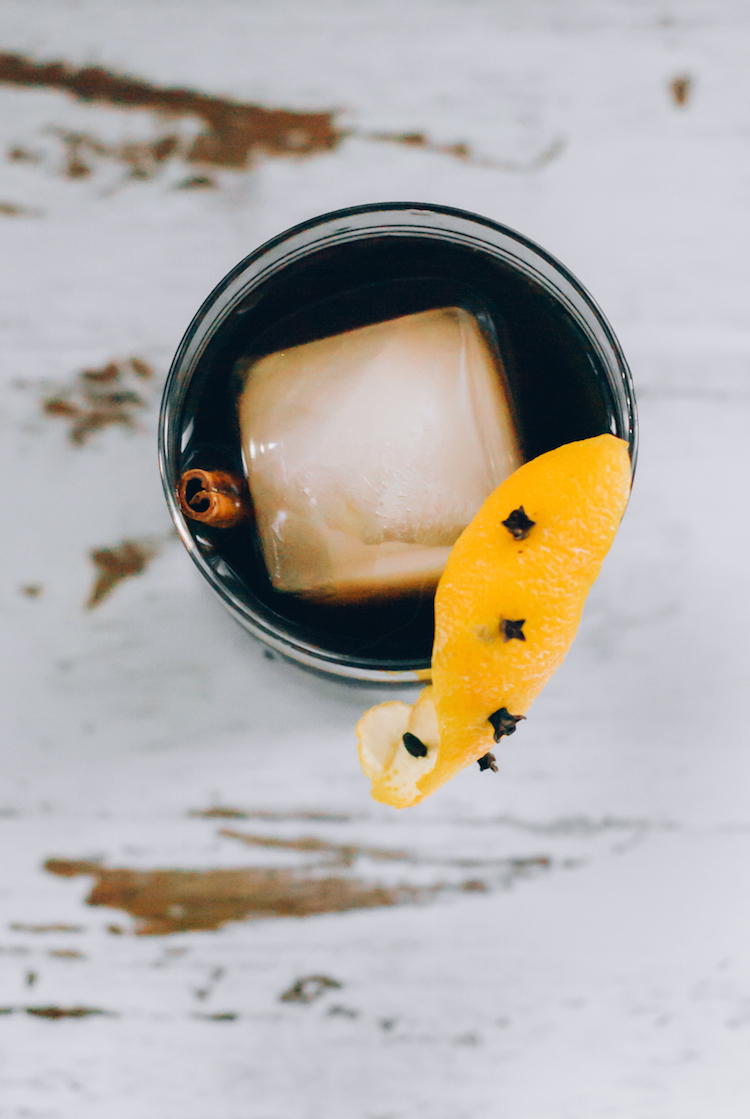 Add all ingredients into a pot and turn to high. Bring to a boil. Turn to low and let simmer 5-10 minutes. Allow to cool in the fridge. Double strain or strain through a coffee filter to remove all solids. Store any unused portion in an air tight container for up to a month.
---
With rich cacao nib-infused sweet vermouth and spicy chili liqueur, this tequila Boulevardier by Gastronomista will warm you right up.
2 oz. añejo tequila
1 oz. cacao nib infused sweet vermouth*
1 oz. Campari
1 oz. ancho chili liqueur
Cinnamon chocolate and an orange peel, for garnish
Stir with ice and strain into a cocktail coupe. Grate cinnamon chocolate on top of the drink and express the orange peel onto the drink. Garnish and serve.
*For cacao nib infused sweet vermouth, combine ¼ cup dried cacao nibs with one 375 ml bottle of sweet vermouth and let sit for one week. Store in the refrigerator.
For more recipes by Katie Stryjewski visit her website www.garnishblog.com